Top 10 Best Cat Dry Food (International)
By NEKOHOUSE SINGAPORE on
Let's get this straight! You may have a new cat, and you are searching for the top dry pet food for your kibble. Or your cat is likely making a mess with her food causing irritation, and you want to switch to dry feline food.

You have been looking for the best dry cat food, but you are confused with all the nitty-gritty details. You want someone to guide you to the best dry cat food without any fuss over nutrients.
If this is what you are looking for, then you have come to the right article.
Dry cat foods contain less water which makes them more convenient and easy to handle. Although dry cat food has lower moisture level, there are some of the benefits dry cat foods will give you, especially if you are busy.
Convenience
You can leave the dry cat food in a feeding device in the morning. The feeding device will provide the right amount of food at specific times. This way, you don't need to worry about the cat food, and you will come home to a happy cat.
Freshness
Dry cat food contains 6-10% water. This helps the food to stay fresh for a more extended time. Store the food in a dry and cool place to prevent the deterioration of nutrients.
Cleanliness
This type of cat food is straightforward to clean because it contains significantly less water. Not only this, they are less messy and smelly.
Security Blanket
Suppose your cat faces anxiety and needs reassurance. You can leave dry cat food in a bowl as a security blanket. Your furry feline will have less eating anxiety just by knowing that she has food to eat.
The Association of American Feed Controls Officials, AAFCO, approves all of the best dry cat foods that made it here.  This means that these dry cat foods have
High Protein

Enough Animal Fats

Essential micronutrients such as minerals, vitamins, fatty acids, and amino acids.
Here are our top 10 best dry cat foods:
1. 
Overall Champion: Dr. Elsey's cleanprotein
Our number one recommendation is Dr. Elsey's cleanprotein. Their cleanprotein line is creating a crunchy palatable kibble for your cat, which very few brands do. Dr. Elsey's kibble uses gelatin as its sole binding agent instead of the typical starchy binders. This way, they keep carbohydrates under 10% on a dry matter basis, making it an unusually species-appropriate choice for your carnivores.
This food emphasizes highly digestible protein sources, including chicken dried egg products and pork portion isolate. This makes it a highly digestible and bioavailable source of protein for your cat.
Although slightly pricey, it is still the best choice and quality available in the market.
Available here at nekohouse.
2. 
IAMS ProActive Health Indoor Weight & Hairball Care Dry Cat Food/ IAMS ProActive Health Healthy Kitten
When you have kittens, you need to take extra care of them. Kittens are often prone to diseases, so it's crucial for you to select the best food for them. With Kittens, it would be recommended to purchase the "ProActive Health Healthy Kitten" dry cat food instead of the usual adult version.
IAMS comes second on our list as it is one of the finest dry pet food for your cat. This is for kittens of ages 1-12 months. It is designed to prevent them from different diseases that may develop as they grow.
IAMS has chock-full of nutrients necessary for a kitten's growth, like prebiotics to support digestive health. IAMS includes omega-3 and omega-6 to aid their brain development. This product is also packed with multi-vitamins and calcium to support bone development.
It has small kibble perfect for your tiny kitten's mouth. The kibble also soaks up pretty quickly, giving you the option of softer kibble.
3.  
Stella & Chewy's Freeze-Dried Raw Morsels
Our number three recommendation is not your traditional kibble. Instead, it is a branny fresh food. These branny tablets can be remoistened into a delicious, delicate pulp. But if your feline favors dehydrated food, you can also feed the tablets dry. This is a good option for kibble, transitioning between a canned diet and a dry diet.
This product contains chicken muscle, meat, organs, and bone. It makes it a whole pray inspired food that honors your cat's demands as carnivores. It also has prebiotics and probiotics, which aid their digestive health.
We recommend this as good food for cats with sensitive stomachs. That includes chronic digestive issues like IBD, as well as food allergies and sensitivities. 
4. Blue Buffalo Wilderness Chicken Recipe Grain-Free Dry Cat Food
Blue Buffalo Wilderness is high in protein, and its grain-free dry pet food is best for your feline in terms of chicken content. This dry cat food is made for optimal muscle growth for your kitten.
Blue Buffalo uses sweet potatoes and peas for carbohydrates eradicating corn, wheat. Artificial flavors and preservatives. This will protect their GI tract from unnecessary damage.
This formula also contains their famous 'LifeSource Bits,' making it a perfect recipe for antioxidants, vitamins, and minerals. It will support your feline's immune system, digestive and brain health.
5. 
Kirkland Signature Super Premium Maintenance Cat Food
Kirkland Signature is a great option if you are on a tight budget. This brand does what other Kirkland products do. It combines great quality with a great price.
This food's price is comparable to Purina Cat Chow, but the quality of its ingredients is a lot different from anything that you would find on grocery store shelves. It is made from chicken, and it doesn't contain any artificial colors and preservatives that you might find in many other lower-cost foods.
This food contains prebiotics and guaranteed levels of probiotics, which may help support digestive health and are seldom found in foods of this price.
Like most dry foods, Kirkland Signature is high in carbohydrates, and it's not a species-appropriate option. But if you are on a low budget and want relatively good food, it is a superior choice. It will cost 14 cents per day, putting it in the same price range as Purina Cat Chow and many other budget foods.
6. 
Ziwi Peak Air-Dried Mackerel & Lamb
The next on our list is Ziwi Peak that takes an exciting approach to dry food. This is a New Zealand brand that takes its ingredients through a gentle twin-stage air-drying process. This simply means that they naturally preserve their nutritional value and eliminate pathogenic bacteria.
It contains mackerel as its first ingredient, along with lamb mussel meat and an array of lamb organs. It even has lamb tripe, an enzyme-rich in nutrients that you aren't going to see in many pet foods.
This pet food is one of the most expensive brands out there, however, known for its quality high grade pet food, it is worth the price for your furry friend.
7. 
Tiki Cat Born Carnivore Chicken Luau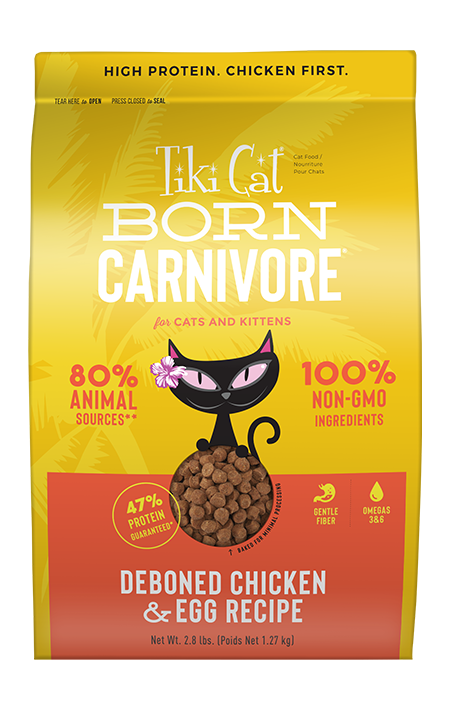 You may have heard of Tiki Cat before, they have constantly been ranked high up on the top cat food brand and products in many ranking list. Tiki Cat has always produced top grade products from wet to dry cat food, hence it is not surprising that their Born Carnivore Chicken Luau is up on our list. This product is a baked dry food rather than an extruded food.
Tiki Cat's Born Carnivore line is relatively high in protein and emphasizes animal proteins. This pet food features boneless chicken and dried egg products as its primary protein sources. It keeps plant protein to an absolute minimum.
8.  
Solid Gold Indigo Moon
Your cat may be a picky eater. For that, we have Solid Gold Indigo. It has earned a reputation for quality and consistency across all generations of cats.
This pet food features chicken meal as its primary protein source. Like all Solid Gold foods, this product is marketed as holistic food. Solid Gold contains many planning ingredients that your cat doesn't need but which purportedly increase the nutritional value of the food.
This pet food contains peas, pumpkins, and carrots. It also incorporates probiotics which will help to support digestive health. It's about 22% carbs on a dry matter basis which is relatively low but still more than your cat should be.
9.   Only Natural Pet Poultry Dinner
Only Natural Pet Poultry Dinner is not marketed for teen years, but you can feed it to a cat of any age. It has some qualities which set it apart for older cats.
First off, it is primarily made from highly digestible and bioavailable protein sources like t bone chicken, turkey meal, and chicken meal. It contains both salmon oil and green-lipped mussels. These are good to ease inflammation associating with arthritis and other inflammatory issues that your cat might encounter during his senior years.
This senior pet food also incorporates prebiotics and probiotics best for your cat's digestive health. Overall, this food is far from perfect. It does contain some plant protein sources. But still, compared to the majority of dry foods, it should really be a good option.
10. 
The Real Meat Company Lamb Recipe
Most of the time, when you see a so-called limited ingredient food on the cat food aisle, it's not limited ingredient food. It very often contains multiple protein sources and a lot of plant ingredients, and it's going to expose your cat to a lot of potential irritants.
That's the very reason we are recommending The Real Meat Company's Lamb Recipe as the best-limited ingredient dry food. Like the Ziwi Peak recipe we mentioned earlier, this is an air-dried food. It has a chunky jerky texture that's quite a bit softer than the texture of Ziwi Peak.
This lamb recipe contains lamb muscle, meat, lamb lung, lamb heart, and lamb liver as its main ingredients. It doesn't have any other protein sources or common irritating ingredients.
The Real Meat Company's Lamb Recipe is a bit more expensive than your average dry food. It costs between about $1.39 to $1.90 per day.
Loveabowl selects the best of natural ingredients from free-range farms and the Canadian Atlantic to add variety and balanced nutrition to every meal. It's kibbles adds a power blend of six superfoods: blueberries, cranberries, pumpkin, spinach, ginger and kelp, to boost immunity and keep your fur buddy bright-eyed and bushy-tailed.
Made-in-Canada, its Chicken formula provides healthy exterior and muscles for cats at all life stages as it's rich in Omega-6 fatty acids. It is natural, non-GMO, and grain-free. 
Last but not least, it is affordable and can be found easily in Singapore's pet market and nekohouse.
To conclude...
Picking the top best dry pet food for your cute kibble can be a bit tricky, but it's better to take some time to research. If you just want to choose the best cat food without having to go through all of these, Dr. Elsey's cleanprotein is the best option for you.
The Real Meat Company's lamb recipe is the best-limited ingredient option for your cat. But if you consider this, you may also want to consider Ziwi Peak's recipe.
Solid Gold Indigo will be perfect for your cat if she's a picky eater.
IAMS Proactive Health can be an excellent choice to improve your cat's health.
There are some others options specific to your feline needs and ages. Remember to transition slowly from wet foods to dry foods, and don't always rely on dry food because it may cause some problems in your cat.